Click on the image for a close up of that item!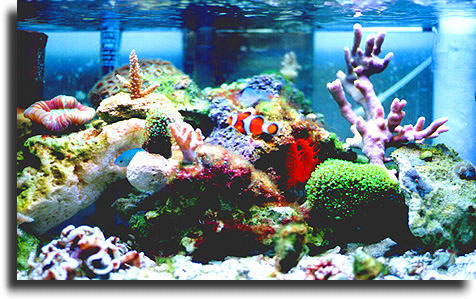 I've added a few Vivo video clips, one of my

clown swimming

(315K) and one of my

yellow polyps

(250K) (click to download, goto www.vivo.com if you need a player)
Tank Inhabitants
The tank is currently lit by 45 watts of normal output flourescents in a DIY hood (3x Home Depot 18" under cabinet fixtures). The fixtures are auto-start and are timed to an 11 hour photoperiod with a 6500K full-spectrum Life Glo bulb with built in reflector, a Coralife 7200K Actinic 03 and an 18000K Power Glo (yes, that's the colour temp. they claim). I additionally had a 9w PC 5500K bulb in there, but it has been removed until I get around to making some more space in the hood. Well on my 10g tank that works out to 4.5 watts/gallon, a number significantly lower than what seems to be generally recommended for the keeping of SPS and more colourful corals, but so far so good =).
For nitrification I use an Aqua-Clear Mini with a single block of foam in it, no carbon. For de-nitrification I use a combination of a plenum and some live rock. I started this system with a 2.5 lb piece of Fiji rock (yes, I'm patient ;) but I'm quite sure the dead coral in there (~6-8 lb) is, at least bacterially, quite alive now since the system has been up for well over a year. The plenum was seeded with 2 lb of live sand and the rest is a crushed coral/shell mix (~6 lb). I run a Lee's Mini counter-current airstone skimmer on the tank continuously. Water changes are critical in a tank this size if you want to avoid dosing (which is less economical here). I change 1-2 gallons per week using distilled water and Instant Ocean salt. Evaporation top off is also distilled through an IV micro-drip. One of the troubles with distilled water, however, is that the fresh salt mix is a bit weak on calcium (400ppm) for my liking since that is the main source of replenishing trace elements through changes. So, I have experimented with a few variations to deal with this including keeping crushed coral in my distilled water to dissolve back some of the carbonates, but have settled on using a product made by Kent called RO Right. It is a mix of calcium, magnesium, potassium and sodium salts which helps my fresh salt mixes to now reach saturation levels of calcium. I had been running a Phos-Zorb pouch in the system, but since I switched completely to distilled water I don't think I'll buy any more of it. Now with my SPS in there I add some kalkwasser into the top off every few days at a very diluted ratio (~10:1), but that may change if I find the hard corals start growing out of control ;)
Well I don't test my water for anything anymore since I have developed a sense of what my parameters are by looking at the tank, and I refuse to spend any more money to get consistent results from test to test. But when last tested my Nitrates were under 0.1 ppm, Phosphates ~ 0.2ppm. The tank is kept at 80F and seldom fluctuates more than 1 degree from day to night. SG is 1.025.